Donald Takayama boards
For those unfamiliar with the Takayama name, Donald (Moke) Takayama was a professional surfer and surfboard shaper and widely considered one of surfing's very greatest. Pictured above, Miki Dora, another surfing legend, shares a moment with Donald Takayama back in 2001, somewhere in Noosa.
Originally hailing from Hawaii, Donald started shaping young and surfing even younger. Spending most of his free time on the beach surfing, it didn't take long before someone from the mainland took notice. Dale Velzy, an industry legend himself, but at the time a relatively unknown entrepreneur, invited Donald or "DT" over to California to shape for him. This move to California kicked off a life lived for surfing, and today, an original Donald Takayama is a highly collectible piece of surfboard history, changing hands for thousands of dollars.
Responsible for several iconic shapes, Takayama designs have been licensed to Surftech for more than 20 years. Long before Donald sadly passed away, he trusted Surftech (an established surfboard manufacturer from the States) to manufacture only the original shapes.
Editor:
The Surftech Takayama surfboards do benefit from upgraded constructions in key areas, with carbon composite reinforcements, updated fin boxes, GreenPoxy for Ecoboard construction or graphics where necessary.
TAKAYAMA SCORPION II TUFLITE
The Scorpion II is one of those boards. Essentially a modified version of the Scorpion, the Scorpion II has a wider tail and narrower nose with a more "rounded out" template. The Tuflite construction is what makes it ding- and pressure resistant, and yet it feels light when you lift it up.
The wider tail volume allows riders to go a little shorter in board length and allows for endless fin combinations like single, 2+1 or quad setups. Because of the shape, a Scorpion II excels as a groveler and will perform in overhead island-style barrels too.
Recommended Fin Setup:
– 2+1 FCS2 w/ a 6.5″, 7″ or 7.5″ (2+1 setup)
– FCS Quad
– Experiment
Available specs:
5'5″ x 20 1/4″ x 2 5/8″
6'0″ x 20 1/2″ x 2 5/8″ 
TAKAYAMA EGG
Some riders are not ready to downsize to a shortboard, and they may not be into longboarding and the typical ride that comes with a log either. For these type of riders, a Takayama Egg is a perfect solution.
Created for intermediates there's a lot of appealing features. There's paddling speed, early wave entry and riding doesn't require you to put your back foot over the fins – trimming the board from the middle works as well.
Accomplished surfers who feel their fitness deteriorating appreciate the performance features of the Egg, it's early wave entry and down the line speed.
Competent older surfers who's fitness isn't what it was will love The Egg's performance and the early wave entry which allows them to compete with ever busier, younger and fitter line-ups.
Available specs TUFLITE:
7'2″ x 21.15″ x 2.7″
7'6″ x 21.5″ x 2.9″
TAKAYAMA "IN THE PINK"
A longboard with a cult following, seen in any spot where people predominantly ride longboards. Several key characteristics make the "In the Pink" (ITP) a purebred nose rider, and the name itself is a nose riding reference too. "In the pink" means standing on the marked section of the nose (which is often pink), qualifying your ride as a nose ride. A lot of earlier versions of the ITP even had a pink nose, telling you exactly where you're nose riding and where you are not quite yet "in the pink".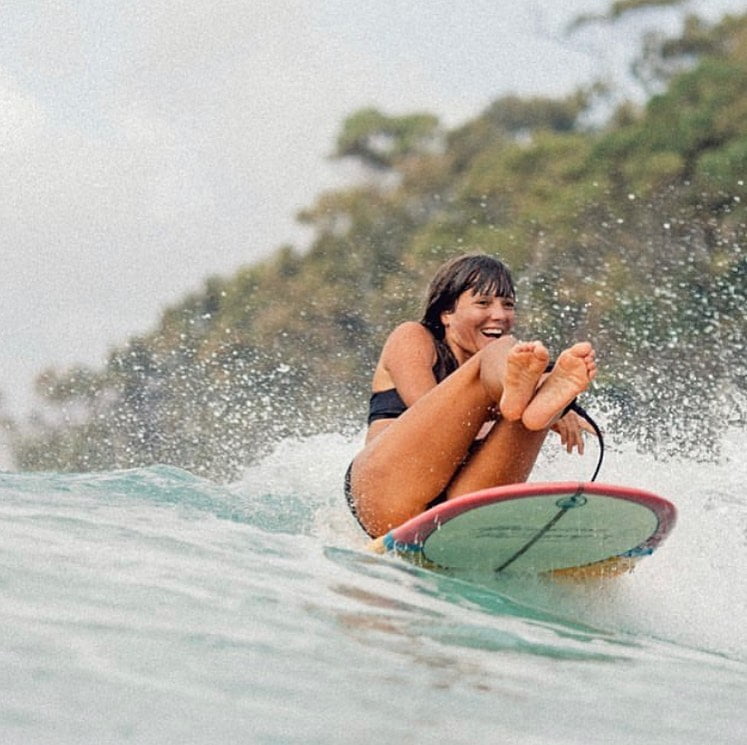 The wide nose section gives this board a lot of lift, and for people wanting to get into nose riding, this is the ticket. Equally, experienced nose riders will take their skill level to the next echelon as the Takayama "In the Pink" is just such a good platform.
Square tail
Ride it single fin for more drawn out turns, or go for sidebites with a slightly smaller center fin to access its maneuverability and enjoy a more "loose" feeling. The tail finishes as a fairly small square tail, creating the perfect drag for noserides, with little edge that makes the board easy to turn.
Go classic with an ITP
Riders looking for a single longboard, a classic shape and a platform that enables them to learn noseriding in the best way possible, well, you simply can't go wrong with Donald Takayama's "In the Pink".

Available specs TUFLITE:
8'6″ x 22.5″ x 2.9″ 64 liters
9'0″ x 22.9″ x 3.0″ 70 liters
9'3″ x 23″ x 3.1″ 77 liters
TAKAYAMA DTII TUFLITE
For riders wanting a longboard that's not 300% angled towards noseriding but has a bit more versatility, Donald Takayama's DT-2 is the most credible option. With its wide nose and tail dimensions, subtle concave nose, low rocker and 60/40 rails it does everything well in small to overhead waves.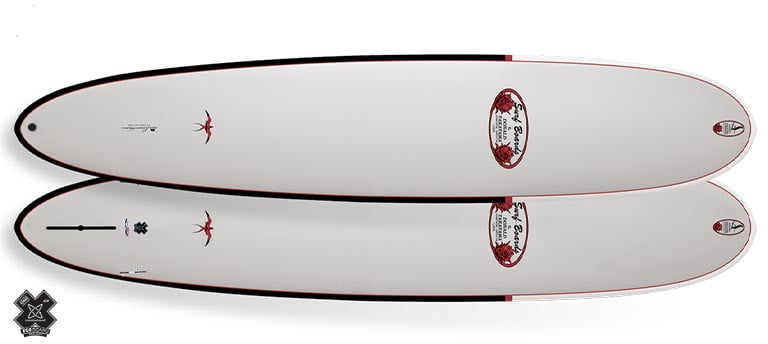 Speedy heritage
Nodding to the DT1, which was all about speed, the DT2 features a rounded pintail, giving you a smoother rail-to-rail transition. You're still a longboarder, but with the DT2, you're going to doodle some lines and make some turns: When the surf gets more power, a rounded pintail will allow you to sink your back foot with a little more enthusiasm, allowing you to roll off the tail.
Noseriding
With a more drawn-in nose, you can still noseride a DT-2 but it won't be as forgiving as the "In the Pink". Essentially, the DT-2 comes into its own on more powerful surf, where the pintail, lesser volume and the decrease in nose width will all start to pay off.
Specs:
9'2″ x 22.2″ x 3.0″ 68.1 liters
The man filled with Aloha
Boardroomfilms had the opportunity to sit down with Donald and discuss his humble beginnings in the surf industry. For a window into the mind of surfing's most talented shapers/designers, check out the videos below: