Stewart Hydro Hull TUFLITE
Stewart's Hydro Hull Tuflite-PC 9'0" turns like a 8'6", paddles like a 9'6", and noserides like a 10'0".
This next-generation Hydro Hull has a modern trim rocker, with a single to double concave bottom, and is made with Surftech's proprietary Tuflite-PC construction for more natural flex.
Carbon wrapped beveled entry rail, which provides forgiveness as well as performance.
The 2+1 fin configuration is another proven Bill Stewart innovation that's stood the test of time. Get the surfboard that always delivers, get your own Hydro Hull.
---
Stewart Hydro Hull TUFLITE Construction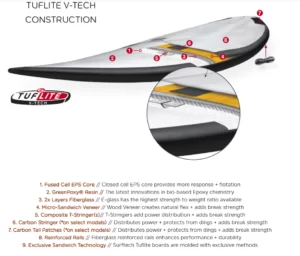 Eco friendly